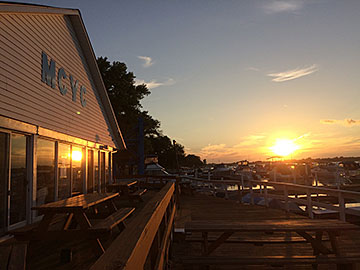 MCYC is located at Marine City.
MARCH
Saturday, 10th 6 pm Winter Social – Sawmill Creek Resort, Huron, OH
Click here for more information.
APRIL
Saturday, 28th 9 am Park & Clubhouse Clean-Up Day
3 pm Arbor Day Tree Planting and Dedication
MAY
Saturday, 5th 9 am Rain Date – Park & Clubhouse Clean Up –
Happy Cinco de Mayo!
Saturday, 19th 5 pm Raising of the Flag in honor of Armed Services Day followed immediately by Annual Meeting and Pot Luck Dinner – Beverages Provided
***Bridge Elections***

Sunday, 20th 10 am Ceremonial Boat Parade
Saturday, 26th 11 am Boat Inspections, Clubhouse reserved for Berea Power Squadron
JUNE
Saturday, 9th 2 pm Walleye Tournament
Saturday, 16th 6 pm Summer Steak Roast featuring the Getaway Band and "Miss" Walleye Pageant
Sunday, 17th 10 am Father's Day Pancake Breakfast
JULY
Saturday, 7th 12 pm 4th of July Party in the Park including our 2nd Annual Corn Hole Tournament and featuring the Electric Circus Band
Saturday, 14th 9am – 12pm Kids Fishing Derby
AUGUST
Saturday, 4th 11 am - ? Kids Day
Saturday, 25th 9 am Danbury Township "Top Dog" Contest –
Off-the-Leash Dog Park
SEPTEMBER
Saturday, 1st 2 pm Labor Day Fish Fry Raffle Tickets go on sale

Sunday, 2nd 2 pm Raffle Ticket Sales begin
6 pm Fish Fry Fundraiser featuring the Late Show Band
Saturday, 8th 2 pm Perch Tournament

Saturday, 15th 6 pm Farewell Pot Luck Dinner
Dusk Trick or Treat
9 pm Adult Halloween Oktoberfest in Clubhouse
Saturday, 22nd 12 noon Clubhouse reserved for Berea Power Squadron

** Non-Denominational Church Services – All are welcome! Held each Sunday (Memorial Day – Labor Day except for Pancake Breakfast June 17th) 9:30 a.m. at Clubhouse. Beverages and donuts provided for a donation after services.

** Movies in the Park – Will be held periodically on Saturday nights. Bridge officers will drive around and notify you when a movie is going to be played. All movies are kid appropriate.